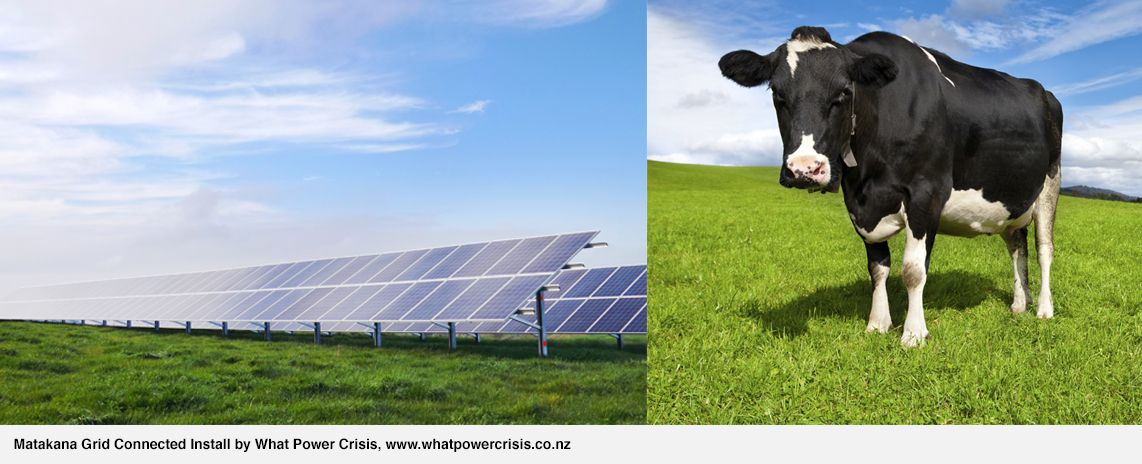 The Future of Sustainable Farming
Installing solar at your dairy farm has never been more affordable.
---
Farmers are now offered an easy and affordable way of becoming more sustainable by utilising solar energy. The benefit of solar is that it makes both business and environmental sense – not only does solar allow farmers to adopt more sustainable agriculture practices, but it can also help reduce on-farm costs.
Reduce your energy costs. Grid connected solar systems can heavily reduce your farm's power expenses. Systems are tailored to suit your specific needs and budget and to maximise your farm's solar yield potential.
Reduce your carbon footprint – Environmentally friendly, emission free
Better business sense - Attractive Return On Investment. The more electricity you use at the time you generate it, the greater your return on investment. A solar installation makes excellent business sense. With solar installations attracting a 16% Depreciation rate, it's possible that you could break even with your solar installation in just seven to eight years.
How Much Can I Save?
We are happy to assist you in calculating the savings potential of a solar system installed on your farm shed. The table below provides estimated savings for a 10kW solar installation. The example system below is designed to generate up to one quarter of electricity requirements of a 200 cow farm. If you would like to generate more power, larger installations can be tailored to suit your specific requirements and budget.

Fantastic Return on Investment.
The table below provides estimated return on investment for a 10kW Solar Installation over 15 years*

What Warranties Are Provided?
YHI supplies good quality products sourced from trusted manufacturers such as Delta, Enphase, Renesola, SMA, Neuton Power and S-5. All products are backed by manufacturers warranties. Inverter warranties range from 5-25 years. Renesola panels carry a 25 year performance warranty.
What Maintenance Is Required?
With no moving parts there is virtually no maintenance required for your system other than cleaning (if required) and ensuring tree growth does not become an obstruction.
What Is Solar?
Solar power or 'Photovoltaic' (PV) converts sunlight into energy. A photovoltaic solar panel (known as a 'PV panel' or 'solar module') soaks up photons from the sun and converts them into an electrical charge, in the form of DC power. This power is then sent to a solar inverter which converts the DC electricity to AC power and can then be used to run your appliances. What's more, there's no wasted energy. Any surplus electricity your system generates is automatically exported back into the main electricity grid.
Why Choose Solar?
Affordable Sustainable Farming

Reduce your farms energy costs

Reduce your carbon footprint - solar panels produce no emissions

Attractive return on investment

Protect your farm from power price increases
Contact YHI today for information on a tailored solar installation to meet your farm's requirements.
Freephone 0800 99 33 44 for more information or the name of your nearest installer